Razor E Prime Electric Scooter Review
Razor is one of the prime staples when it comes to the electric scooter industry. Back in the days when electric scooters were a new craze, the Razor was a common sight. That was 20 years ago. And as time went by other companies brought their electric scooters on the market. But in recent times the OG scooter company made a comeback. Provided brand-new electric scooters while keeping their classic attributes intact. The Razor E-Prime is one of them. It has a high demand in the e-scooter market. 
Motor: 250W High-Torque, Hub Motor
Maximum Speed: 15 Mph
Battery Life: Up To 15 Miles Per Charge
Charge Time: 3.5 Hours
Tires: 8-Inch Pneumatic Tire
Weight Capacity: 176 Lbs
Brakes: Rear Fender Brake
Suspension: No Suspension
Lights: LED Headlight And Rear Brake Light
Foldable: Yes
Dimensions: 40.16 X 16.85 X 38.58 Inches
Weight: 21.56 Lbs
Frame Material: Aluminum Alloy
Display: No Display
Throttle: Thumb-Activated Throttle Control
Highlights of the Razor E-Prime Electric Scooter
Powerful 250W motor for efficient acceleration.

Lithium-ion battery: up to 15 miles range, 3-4hr charge.

15 mph top speed.

Sturdy aluminum frame weighing up to 176 lbs.

Pneumatic tires with shock absorption for comfort.

Foldable design for easy portability.

LED lights, and a hand-operated rear brake for safety.

App-enabled AI connectivity, and customizable ride profiles.

Adaptive suspension for various terrains.

Modular battery/tire upgrades are available.

User-friendly controls, suitable for different riders.
Let's take a closer look at its impressive features and specifications.
Motor
Comes with a 250-watt, high-torque hub motor. This motor provides a seamless and quiet ride, reaching speeds up to 15 mph. The motor's performance strikes an excellent balance between power and energy efficiency, making it well-suited for urban environments where quick starts and stops are frequent.
Battery
Powered by a lithium-ion battery pack that offers an impressive range of up to 15 miles (24 km) on a single charge. This battery's longevity ensures riders to confidently go on with their daily commutes, run errands, or explore the city without concerns about running out of power midway.
Maximum Speed
With a top speed of up to 15 mph (24 km/h). This moderate top speed ensures a controlled and secure riding experience, especially in a bustling urban environment where pedestrian and traffic is abundant.
Charging Time
It takes approximately 3 to 4 hours to reach full battery capacity. This quick charging period allows riders to recharge their scooters during work hours or other breaks, ensuring that the scooter is ready for use whenever needed.
Maximum Weight Capacity
With a maximum weight capacity of around 176 lbs (80 kg), the Razor E Prime accommodates a wide range of riders. Making it suitable for both adults and children.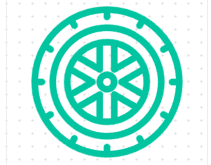 Tires
The Razor E Prime features an 8-inch pneumatic front tire and a 5.5-inch rear tire. This tire configuration, along with the shock-absorption capabilities, delivers a comfortable and stable ride even on uneven and rough surfaces.
Pros Of Razor E Prime Electric Scooter
Sleek & modern design
Efficient 250W motor
Low maintenance 
15 miles of range on a single charge
Charge time of 3-4 hours
8-inch pneumatic tires for extra comfort  
LED lights, hand-operated brake
The foldable aluminum frame makes it portable 
Can be stored in a locker.
Can be modded with an extra battery and tire replacement
Cons Of Razor E Prime Electric Scooter
No suspension
Not great on rough terrains 
Some riders might need to adjust the thumb-throttle
Additional accessories need to be purchased separately
Battery longevity can decrease over time
Higher cost compared to other basic scooters
As the demand for eco-friendly urban transportation grows, this sleek electric scooter promises an excellent experience navigating the bustling city streets. The Razor E Prime has become a frontrunner in the realm of personal electric mobility.
Right from the start, we have to talk about its design. The Razor E Prime stands out with its minimalist modern design, making it a visual delight for users. Constructed from high-quality materials, the E-Prime is sturdy and durable. The aluminum frame ensures a lightweight yet robust build. Which is why it's easy to carry.
And yes, it is foldable. The folding button resides right beneath the battery indicator. With a streamlined design, coupled with a brushed steel finish, it's a simplistic bike that is elegant in it's its appearance, making it a fashionable choice for daily commuters.
At the heart of the scooter lies a powerful and efficient 250-watt hub motor. This motor is a high-torque motor that provides a smooth and quiet ride. You can easily travel at speeds up to 15 mph (24 km/h), making it perfect for short to medium-distance commuting. It hits the optimal mix between safety and usability, making it perfect for congested metropolitan areas.
The E-Prime is equipped with a lithium-ion battery, allowing a range of 15 miles (24 km) on a single charge. It's enough to provide efficiency in your daily commute. It allows users to confidently travel to work, run errands, or explore the city without worrying about running out of power mid-way.
The E Prime is a sturdy bike, but it is also known for its exceptional riding experience. The scooter comes with 8-inch pneumatic tires. These sorts of tires are great for maintenance, and you rarely have to take them to the mechanic. However, this scooter lacks a suspension. So moderately uneven roads are going to be a problem.
The deck is additionally spacious enough for both feet to fit comfortably, maximizing the riding experience.
Safety isn't an afterthought when it comes to the Razor E Prime. The intuitive thumb-activated throttle and hand-operated rear brake precisely control acceleration and stopping power. Even beginners will find the learning curve to be gentle, while experienced riders will appreciate the nimble handling and responsiveness.
It also comes with other proper safety accessories. The headlight illuminates what's ahead of you at night. A brake-integrated LED taillight glows bright red when you break. Riders can feel confident on both days & nights, enhancing presence while minimizing collisions.
The folding mechanism allows users to conveniently fold the scooter down to a compact size for easy carrying and storage. Weighing approximately 21.5 lbs (9.7 kg), it's an ideal option for commuters who may generally combine public transportation with their scooter journeys.
In conclusion, the Razor E Prime Electric Scooter is an outstanding choice for city dwellers seeking an efficient, stylish, and eco-friendly means of transportation. Its elegant design, reliable performance, comfortable ride, and thoughtful safety features combine to create an excellent overall package. The Razor E Prime focuses on practicality, safety, and ease of use making it an appealing option for daily commutes and errands. Whether you are a seasoned electric scooter enthusiast or a first-time rider, the Razor E Prime is sure to satisfy your mobility needs in style.
Common Q&A Relates To Razor E Prime Electric Scooter